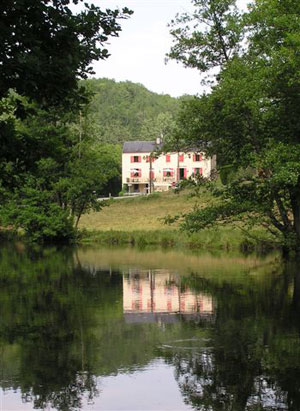 Special Offer
2 rooms offered for 2 adults and 2 children for the same price as quadriple.

Welcome - to your stay in France, whether you want a long holiday or are just passing through, a special welcome awaits you at 'Au Beau Rivage'. Unwind, relax and make life long friends and enjoy country life at it's best. Au Beau Rivage is situated between Gueret and Aubusson in the centre of the Creuse near the viaduc of Busseau sur Creuse.

Ideally placed for overnight stops en route to the South within easy reach of the A20 and A71, just minutes from Gueret. 'Au Beau Rivage' lies in a beautiful location overlooking the river 'Creuse' and the 'Viaduct Eiffel'. Perfect for those seeking a relaxing break in the French countryside, and to discover one of the most picturesque regions of France. There are endless sites to see and a unique rural culture that can only be experienced here in the depths of central France.

The Maison d'hote is conveniently located for stopovers on the route to the South and the passage from east to west. It is just minutes from the N145 main route to Spain. Its location just outside Gueret allows for simplicity for travel but also means it is still set in the relaxing countryside. Nearby villages include Ahun, Moutier d'Ahun, Jarnage, Cressat and Chenerailles just to name a few and it is in easy reach of Lake Vassiviere, Limoges, Bourganeuf, La Souterraine and just 20 minutes from Aubusson. This fantastic location means a market can be enjoyed from morning to morning as well as several activities the area has to offer, which are outlined in more detail in 'the Creuse' section of this site.

This beautifully and conveniently Maison d'hote near Gueret will ensure that your holiday provides you with everything you require, to make it a memorable one. The en-suite rooms have all been refurbished to a high standard to add to your comfort. Breakfasts can be enjoyed in the lounge in front of the fire in the winter months or on the sun terrace over looking the river in the summer. Relax with us in an area where time has stood still, where old fashioned pleasures still abound. The best choice for that French holiday.